Hawaiian Sea Salt Recipes
We have gathered some of the best examples of both modern and traditional Hawaiian recipes where Hawaiian Sea Salt can have the greatest positive impact. All of these recipes can be found in the Recipe Books offered on our site.
Remember Hawaiian Sea Salt not only adds distinctive flavor, it provides a wonderful visual accent to any food presentation. Bring an important piece of the island dining experience home to your family or amaze the party guests with an unexpected and pleasing Hawaiian dish.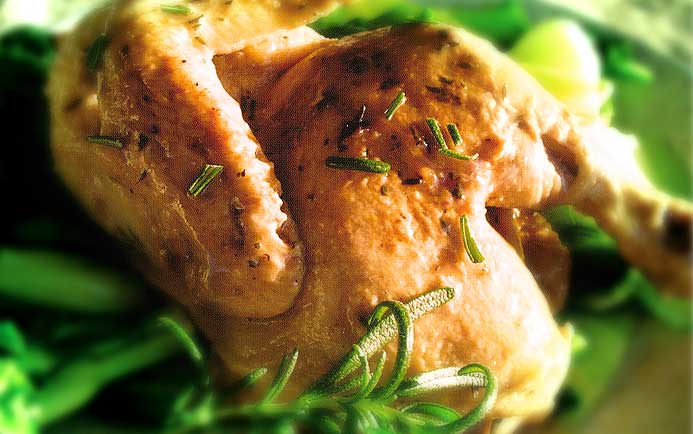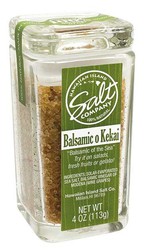 Cornish Hen Pot Roast with Balsamic o Kekai Sea Salt
Star Advertiser, By Request 2: Cornish hens are a favorite for slow cooker meals but I was looking for a pot-roast type recipe for stove-top cooking because it is quicker than a Crock Pot or oven. I tested this Tyson based recipe using thyme and rosemary plus a heartier vermouth.
One tip: Cornish hens have a lot of fat. If you have the time refrigerate the hens after cooking and scoop off the solidified fat either way scoop as much fat out of the cooking juices as possible before serving.
2 cornish game hens (around 22 oz. each)
1 teaspoon of either dried or fresh thyme
1 teaspoon of either dried or fresh minced rosemary
1/2 cup vermouth (or very dry white wine)
1 tablespoon of cornstarch mixed into 1/4 cup of warm water

1 teaspoon of Balsamic o Kekai Sea Salt
Pinch of black pepper
2 tablespoons olive oil
1 clove minced fresh garlic
1/2 cup water
Rinse hens in cold water a pat dry. Split hens in half down the backbone. Combine herbs, garlic, Balsamic o Kekai Sea Salt and pepper and rub mixture on all sides of the hens. Heat oil in Dutch oven over med-hi heat. Brown hens on both sides.
Add vermouth, reduce heat. Cover and simmer for 45 minutes until juices run clear when thigh is pierced. Remove and cover birds.
Strain juices and remove fat as described earlier. Bring juices to a simmer, add cornstarch mixture and thicken. Serve.
---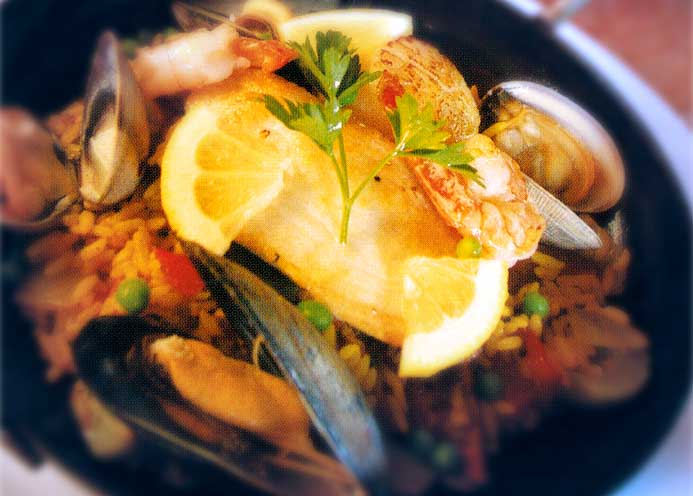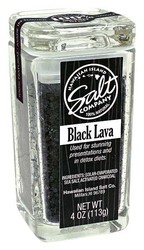 Palomino Euro Bistro Paella with Black Lava Sea Salt
Star Advertiser By Request 2: Chef Fred DeAngelo says the key to this traditional Spanish dish is saffron - the world's most expensive spice. Paella is the most popular dish in most Spanish restaurants whether it's the Palomino Euro Bistro in Hawaii or your home town.
3 teaspoons olive oil
9 ounces mahimahi
9 live mussels
Pepper to taste
6 ounces white wine
9 large shrimp
3 ounces peas
6 cloves minced garlic
9 live clams
Black Lava Sea Salt to taste
6 ounces fish stock or clam juice
juice from 1 1/2 lemons
3 crab claws or legs split in half
Rice preparation:
1 ounce olive oil
1 medium Maui onion diced
2 minced garlic cloves
1/2 teaspoon oregano
1 teaspoon cumin
1 cup chicken stock
1 link chorizo cut
1/2 red pepper diced
2 ounces vermouth
1/2 teaspoon thyme
1/4 teaspoon crushed peppers
1/2 pound long grain rice
5 ounces chicken in chunks
1/2 green pepper diced
4 roma tomatoes diced
3/4 coriander
1/2 teaspoon saffron
Rice: heat oil, brown chorizo and chicken. Add onions, peppers and garlic, deglaze with vermouth. Add tomatoes, spices and stock, bring to boil. Add rice and bake for 30 minutes at 375 degrees.
Paella: combine oil, garlic, fish clams and mussels. Saute over medium heat. Season with Black Lava Sea Salt and pepper. Deglaze pan with stock and wine, add lemon juice, cover and reduce until shellfish open (about 1 minute)
Add shrimp, crab, rice and peas, stir gently. Cover and cook another 2 minutes. Garnish with lemon slices and chopped parsley.
---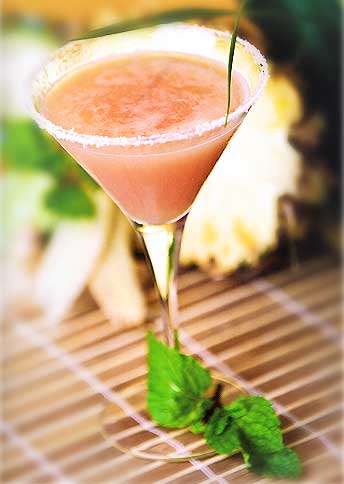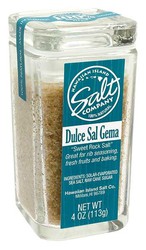 Mai Tai-Jito with Dulce Sal Gema Sea Salt
The New Wave Mai-Tai: We humbly suggest you use Maui Hawaiian Reserve Gold Rum but any fine rum will do. The Mai Tai is considered the unofficial drink of Hawaii and in indelibly linked to hula surfing and Diamond Head. This recipe is from Dukes on Waikiki.
In a mixing tin muddle
8 fresh mint leaves
6 chunks fresh Hawaiian pineapple
5 lime wedges
1 teaspoon mango puree'
1/2 teaspoon Dulce Sal Gema Sea Salt slat
1/2 teaspoon raw sugar
2 teaspoons candied ginger
Then add:
1 ounce Hawaiian Rum
1 ounce Hawaiian pineapple juice
1 ounce guava juice
3/4 ounce Bacardi white rum
1 ounce liliko'I juice
1/2 ounce spiced rum
Rim the glass with sugar, add ice to tin and shake well. Strain into glass and float on the spiced rum, garnish with lime.
---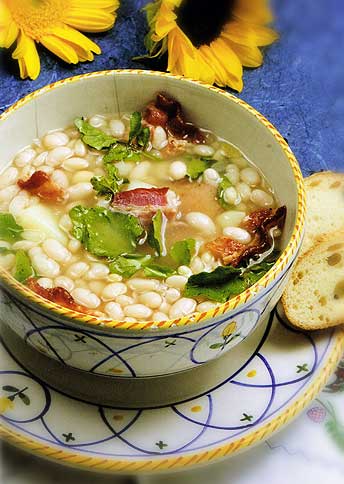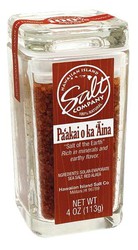 Portuguese White Bean Soup with Pa'akai o ka Aina Sea Salt
My father cooked this soup frequently during World War II due to food rations. The recipe can be expanded for larger families and last several days. After three generations, this soup is still a family favorite because it doesn't use too many ingredients, is easy to cook and tastes great.
Serves 8

1 package small white beans
Water
2 medium potatoes
1 pound Oscar Mayer bacon, cut into 1-inch pieces
Pa'akai o ka Aina Sea Salt, to taste
2 bunches watercress, washed and cut into 2-inch lengths

Rinse white beans and place in stock pot. Fill halfway with water. Soak beans overnight.

When ready to begin cooking, pour out the water and rinse beans. Refill the pot 3/4 full with water. Cook on medium heat until tender.

Stir occasionally so beans do not stick to the bottom of the pot. Add potatoes and bacon. Stir gently.

When potatoes are cooked, turn off heat. Add Pa'akai o ka Aina Sea Salt to taste and watercress. Press watercress gently into broth. Do not mix until ready to serve. Goes great with warm bread.
---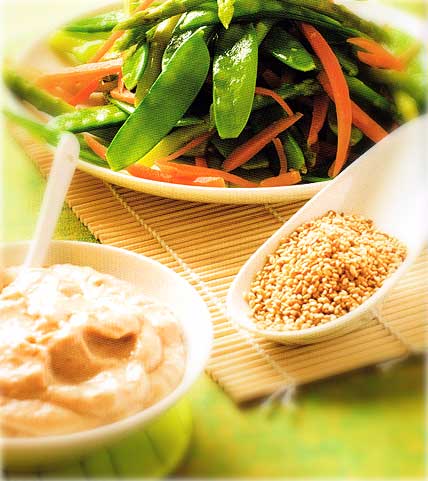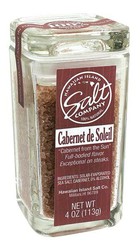 Sesame Dressing with Cabernet de Soleil Sea Salt
Little Hawaiian Condiments Cookbook: Borrowed for Hawaiian Homemade Gifts and Treats Magazine
2 tablespoons sesame oil
1/4 cup canola oil
1/4 cup finely chopped Maui onions
1/4 cup Hawaiian honey
1 teaspoon Cabernet de Soleil Sea Salt
1 clove of fresh garlic, pressed
1/2 cup lemon juice
2 tablespoons toasted sesame seeds
Blend all ingredients except sesame seeds in a food processor/blender. Stir in sesame seeds. Pour into jars and chill.
---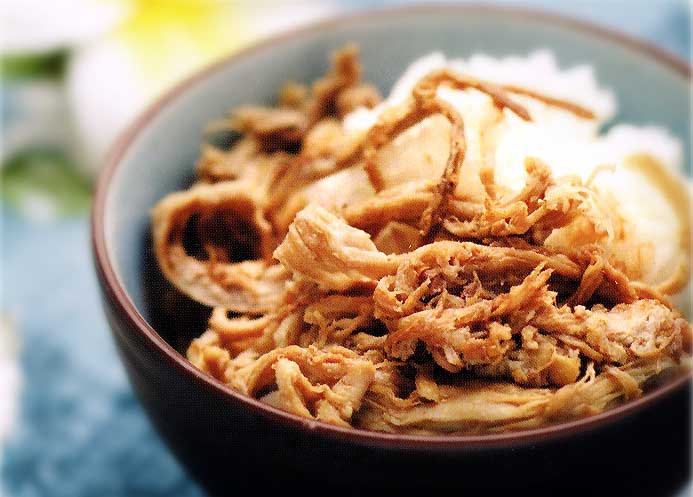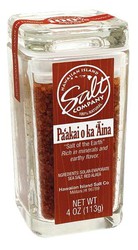 Napua's Slow-Cooked Kalua Pig with Pa'akai o ka Aina Sea Salt
Little Hawaiian 'Ohana Cookbook: A crock pot works just as well as an oven for this recipe. We have friends in Michigan that use this recipe at least one a month. It will be a big hit for church potlucks and the like. Rosemary, Hawaiian sea salt and Maui onions give the pork a little extra flavor.
Serves 6 to 8
5 pounds bone-in pork butt
1/4 cup liquid smoke
1/2 cup water
1 tablespoon dried rosemary
1/2 tablespoon black pepper
2 tablespoons Pa'akai o ka Aina Sea Salt
1 small Maui onion, thinly sliced
1 small head cabbage, steamed and shredded
Additional Pa'akai o ka Aina Sea Salt, to taste
Steamed white rice
Place pork, fat side up in a 6 quart Crock pot. Combine liquid smoke and water, pour over pork. Sprinkle with rosemary, pepper and Pa'akai o ka Aina Sea Salt. Place onion slices around pork. Cover and cook for 6-8 hours or until pork is very tender. Remove and shred the meat. Add cabbage. Pour cooking liquid to taste. Serve over rice.
---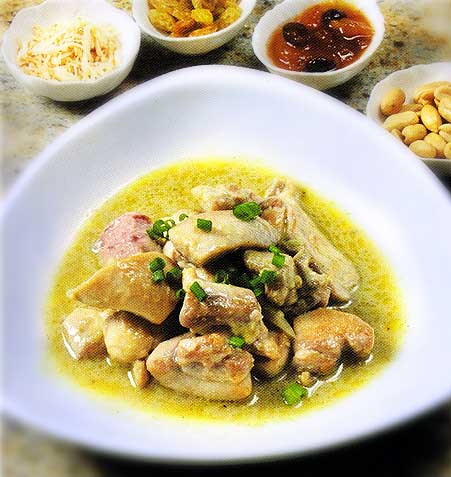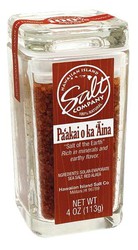 The Willows Curry with Pa'akai o ka Aina Sea Salt
Little Hawaiian 'Ohana Cookbook: In the 1940's Emma Hausten dreamed of offering the finest in gracious hospitality that mimicked the relaxing atmosphere of home. In 1944 Emma realized her dram when the family opened the Willows. A restaurant where everyone was welcomed with aloha. This recipe is still offered at The Willows today.
2 pounds boneless chicken thighs, cut into bite-sized pieces
6 ounces white wine or dry vermouth
3 tablespoons peanut oil
Diamonds o Kekai Sea Salt and pepper to taste
6 tablespoons curry powder
Curry Sauce:
3 garlic cloves, minced
6 ounces white wine or dry vermouth
2 cups finely chopped Maui onions
6 tablespoons of clarified butter
3 teaspoons of Pa'akai o ka Aina Sea Salt


3 teaspoons of sugar
3 tablespoons of curry powder
9 tablespoons flour
8 cups Hawaiian coconut milk
Meat:
2 pounds boneless chicken thighs cut to size or shrimp
1/4 cup fresh chopped ginger
3 tablespoons peanut oil
Pa'akai o ka Aina Sea Salt to taste
Pepper to taste
6 tablespoons curry powder
Saute garlic, ginger, onion and butter. Add 'Alea sea salt, sugar, curry powder and flour. Mix then add coconut milk a little at a time. Stir and slowly bring to a boil (20 minutes) Allow to stand several hours.
---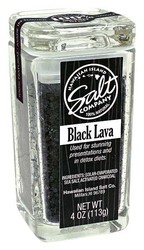 Sam Style Poke with Black Lava Sea Salt
Star Advertiser By request 2: This winner of the Sam Choy/Aloha Festivals Poke Recipe Contest was picked from thousands of entries. Based on the number of entrants Poke is finally gaining mainstream popularity.
2 pounds finely diced 'ahi yellow tuna
4 teaspoons 'inamona
1 cup rinsed and chopped ogo
1 tablespoon sesame oil
1 teaspoon soy sauce
2/3 cup Sam's secret sauce
Combine 'ahi with 'inamona, ogo, sesame oil and soy sauce. Mix thoroughly. Add Sam's secret sauce and marinade for 30 minutes in fridge.
Sam's Secret Sauce:
2 cups water
2 tablespoons Black Lava Sea Salt
2 Hawaiian chili peppers finely chopped
Combine ingredients and stir.
---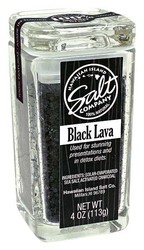 Ratatouille with Black Lava Sea Salt
Hawaii's Ohana Cookbook: Aunty Demy's secret California recipe imported to the islands more than thirty years ago. This is a fabulously tasty vegetable concoction.
1/3 cup olive oil
2 onions halved and sliced
2 green peppers, sliced
2 zucchini, sliced
1 teaspoon oregano
1 teaspoon black pepper
1 large tomato, diced or 1 can 28 ounces of diced tomatoes
2 teaspoons Black Lava Sea Salt taste
2 cloves garlic, mashed
2-3 long eggplant, sliced
1/2 cup cilantro
1 teaspoon basil
Heat oil in pot. Add Maui onion, garlic and green peppers. Saute for 10 minutes.
Add eggplant and zucchini. Mix gently. Cover and simmer 20 minutes more.
Add tomato, cilantro, bay leaf, oregano, Black Lava Sea Salt and pepper. Cover and simmer 20mminutes more.
Serve hot or cold.
---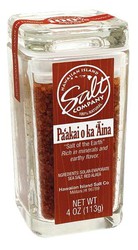 Mom's Mahimahi Saute Belle Meuniere with Pa'akai o ka Aina Sea Salt
Little Hawaiian 'Ohana Cookbook: Mom only made this on weekends because she worked all day at my Uncles store in Pu Ukoli. I remember this as our special weekend meal. The Mahi was so thick my mother would slice the meat on an angle to get it thin enough to cook properly.
8 pieces of 3 ounce fresh Mahimahi
1/4 cup milk
1/2 teaspoon paprika
1/4 cup vegetable oil
1 teaspoon Pa'akai o ka Aina Sea Salt
1/2 cup flour
1/4 teaspoon ground white pepper
1 teaspoon chopped parsely
Remove skin from fish. Cut into pieces by slicing on a slant to create thinner pieces. Place in bowl of milk. Combine flour, paprika, Pa'akai o ka Aina Sea Salt and pepper. Remove fish from milk and dredge in flour mixture.
Sauce:
3/4 stick of butter
2 cloves garlic, minced
Juice from 1/2 lemon
Remove skin from fish. Cut into pieces by slicing on a slant to create thinner pieces. Place in bowl of milk. Combine flour, paprika, Pa'akai o ka Aina Sea Salt and pepper. Remove fish from milk and dredge in flour mixture.
---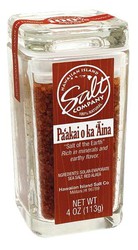 Tropical Sweet Potato Crunch with Pa'akai o ka Aina Sea Salt
Best of the Best Hawaii Cookbook: Sweet potatoes are natures light health secret providing rich nutrients and much more fiber than regular white potatoes. This dish is so good its hard to tell if its dinner or dessert.
Topping:
1/3 cup firmly packed brown sugar
1/3 cup chopped Hawaiian Macadamia nuts
2 tablespoons melted butter

1/3 cup shredded coconut
1/2 cup dried cranberries
Preheat oven to 350 lightly grease 56 qrt. Baking dish. In a small bowl combine ingredients. Set aside.
4 lbs sweet potatoes steamed and sliced
1/4 cup brown sugar
1/2 cup Hawaiian pineapple juice
1/2 cup crushed pineapple
1/2 tsp vanilla
2 tablespoons melted butter
1/2 teaspoon Pa'akai o ka Aina Sea Salt
1/2 teaspoon cinnamon
1/2 teaspoon ground cumin
1 can 16 ounces whole cranberry sauce
1 large egg, beaten
I mixing bowl combine potatoes with all other ingredients except cranberry sauce. Spoon half into prepared dish. Spoon cranberry sauce over potatoes. Top with remaining potatoes and topping mixture (see below). Bake for 35 minutes.